HTK(Honda Connectors): AKX series Cage and Connector for SFP Transceiver based on INF-8074 and SFP-MSA
INF-8074 — Specification for SFP(Small Form Factor Pluggable) Transceiver
MSA — SFP Transceiver Multi Souce Agreement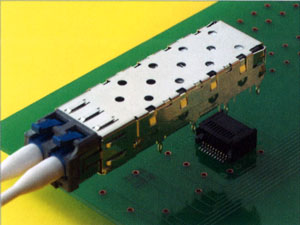 ■ Cage
1) Full metal shield for grounding and EMI suppression.
2) SFP cage is comprised of 2 parts of cage bottom and cage top, so the soldering type is single piece and two piece cage available. The press fit type is single piece cage only. In addition, the soldering fixed six places, and sigle piece cage becomes high-strength structure.
3) The soldering type is kink shape terminal, and when mounting the cage on PCB, kink shape terminal protect floating from PCB by vibration etc.
■ Connector
1) 0.8 mm pitch / 20 pos. R/A SMT connector.
2) The mating surface of contact, abrasion decreases by contact it on roll surface of raw material in the case of insertion & withdrawal of the connector. As result, the contact can maintain connection of longer life and high reliability.
3) By impedance matching and stubless contact shape, low return loss and high-speed transmission characteristics are provided.
Cage and Connector
| | | |
| --- | --- | --- |
| | | |
| SFP Cage, Soldering Type | SFP Cage Bottom, Soldering Type | SFP Cage Top, Soldering Type |
| P/N: AKX-CG | P/N: AKX-CG-01 | P/N: AKX-CGP-02 |
| | | |
| --- | --- | --- |
| | | |
| | SFP Connector, R/A SMT Type | |
| | P/N: AKX-20LFY | |
| SFP Cage, Press-fit Type | — 0.38μm min. Gold plating | |
| P/N: AKX-CGP | P/N: AKX-20LFYG1 | |
| | — 0.76μm min. Gold plating | |
Specifications
| | |
| --- | --- |
| Rated Current | 30 V AC (r.m.s) / DC maximum |
| Rated Voltage | 0.5 A / 1 contact maximum |
| Operating Temperature | -40 to +80 °C |
| Humidity | 85% Rh maximum |
Download PDF
Head office sales division
E-Mail: office@tokoh.biz
TEL. +81-3-3714-2800
FAX. +81-3-6661-4814
Skype ID: masatoshi-uchiyama